Florida Extreme Riding Exhibitions
(FERE)
Welcome to the homesite for the Florida Trials Demonstration Team. On this site you will find information regarding our shows, trials, and ways to contact us. We setup and perform shows throughout the state of Florida as entertainment for any type of large event. We are continually working to improve the nature of our shows, and this site will introduce you to the nature of our demonstrations.
Our Machines
The rather futuristic looking motorcycle you see above is officially termed a "trials motorcycle," and is the most specialized motorcycle ever designed. The machines have evolved rapidly throughout the years, and are now capable of tackling some of the most severe terrain an event organizer can find. These are competition designed bikes, and in an event these riders take the machine through creek beds, up hills, over large rocks and boulders, and up and off of shear walls. Though ultimately designed for competition, the bikes are easily adaptable to, and are often used in a show or stadium like environment. The riders in these shows are among the best in the sport, and can perform maneuvers on these machines to amaze any crowd.
Places for our Shows
Our shows are a perfect addition to any event where you there is a crowd of spectators. In the past we have performed at events such as the Florida Motorcycling Expo and Leesburg Bikefest. Shows of this nature are becoming a more and more frequent site at car shows, air shows, swapmeets, fairs, concerts, and major establishment grand openings. Shows can be performed either outdoors and indoors, and require a relatively small area. A typical show will need a flat space of about 45' by 100'. You set aside the space and we do the rest. The shows are typically 12-15 minutes long, and feature the rider(s) attacking a series of impossible obstacles set on and around a 25' demo-trailer. Obstacles include things like large cable spools, a huge payloader tire, and other assorted independent man-made obstacles.

Each show is announced and set to music, and has an after show period where the audience can meet the rider and get autographs. Whether the rider is jumping across large gaps, doing 180 degree flip turns, jumping off of an 8 foot platform, insane trick riding, bunny hopping, or performing any other array of endless balancing skills the audience will be stunned and have a topic of conversation for weeks to come.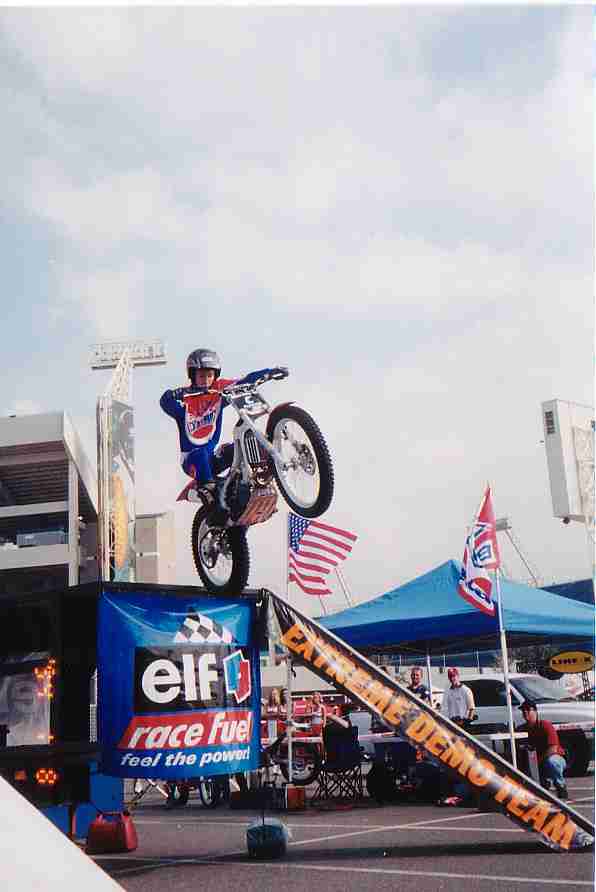 Adam at the Hotwheels Car and Bike show in Jacksonville.





Visitors to this site: